De Teleco Internet Sat 85 Twin kunt u tv kijken en internetten via Astra2 Connect. Met de set maakt u gebruik van de bi-drectionele breedband-verbindingsdiensten die Astra2 Connect (Ku-band) aanbiedt via de Astra-satelliet (23,5° Oost). Met de Internet Sat 85 Twin kunt u op de twin LNB 2 satellietontvangers aansluiten. In de set zit een interactieve LNB voor het ontvangen en verzenden van telefoon- en internetsignaal. Voor televisie zit er een twin LNB bij, waarop u 2 satelliettuners kunt aansluiten. Via het IP modem sluit u de pc of laptop aan op de Teleco Internet Sat 85 Twin.
Tegelijk internetten en tv kijken
Met de Teleco Internet Sat 85 Twin maakt u vanuit uw camper of caravan tegelijk gebruik van internet en tv. Bovendien kunt u met de twin LNB hiermee op 2 toestellen verschillende tv-programma's kijken (van dezelfde satelliet).
Volautomatische schotelantenne
Schakelen tussen satellieten gaat bijzonder makkelijk met de Teleco Internet Sat 85 Twin. U kiest een andere satelliet op het bedieningspaneel en de Internet Sat 85 richt de schotel automatisch uit. De posities van Hot Bird, Astra 19, Eutelsat 9, Eutelsat 16, Eutelsat 5W, Astra 23, Astra 28 Hispasat en Turksat staan geprogrammeerd in het bedieningspaneel.
Contract aanbieder noodzakelijk
Om gebruik te maken van internet- en telefoondiensten sluit u een contract af met een aanbieder die toegang geeft tot Astra2 Connect diensten. Dit is niet inbegrepen in deze set. De Astra2 Connect diensten worden gegarandeerd binnen de footprint van Astra 23,5°.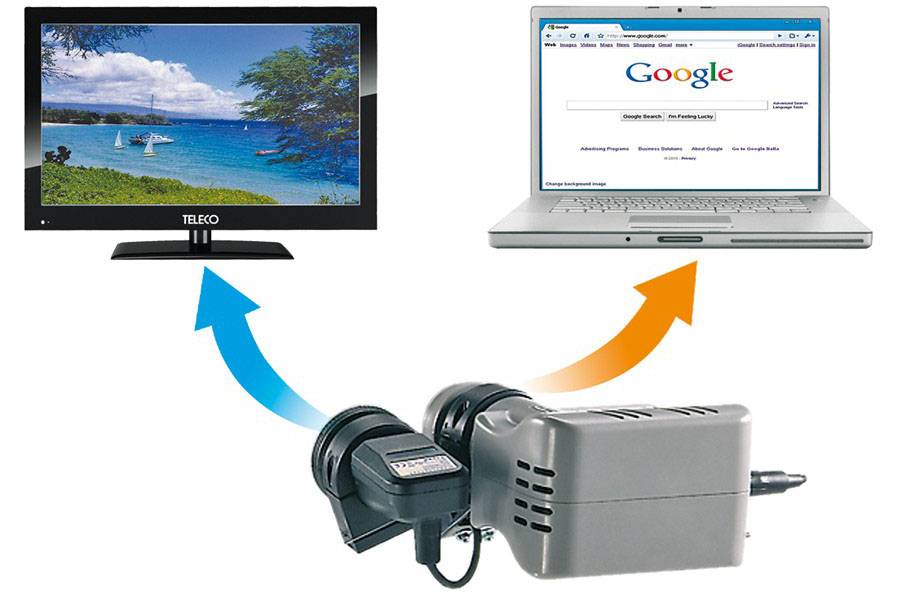 De Teleco Internet SAT 85 Twin set bestaat uit:
Schotel (85 cm)
iLNB voor internet (Ku-band)
LNB voor televisie
IP modem