Desktop speakers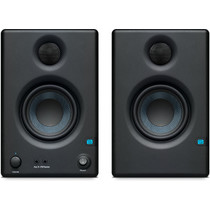 Presonus Eris E3.5 heeft een 25W versterkte speaker, die een piek bereik heeft van 100dB. Deze studiomonitoren worden door iedereen gebruikt die elk detail in hun opnames willen horen. Prijs is per paar.
Lees meer
Ewent 2.0 Speakersysteem, 5W RMS, groen of zwart met wit (EW3514, EW3513)
Lees meer
Ewent 2.1 Speakersysteem, Multimedia 2.1 Stereo Speaker set 40 Watt RMS voor je computer, laptop, smartphone, tablet, TV en mp3-speler
Lees meer
Ewent 2.0 Speakersysteem. Voorzien van een 3.5mm stereoaansluiting en hoofdtelefoonaansluiting. Draaiknop voor volume/power aan de zijkant. Compacte 2.0 Stereo Speaker set 6 Watt
Lees meer
Gratis verzending v.a. €35,-

Voordelige prijzen

Breed assortiment
Fluid Audio C5 BT Bluethoot Speaker in wit of zwart. Dit is de perfecte set om muziek te luisteren die op je telefoon of PC staat.
Lees meer
De Gembird speaker Stormtrooper is aan te passen met de diverse knopjes bass, treble en volume etc.
Lees meer
Gembird 2.1 Speaker Set met subwoofer door de 3.5mm jack ook geschikt is voor je telefoon.
Lees meer
Gratis verzending v.a. €35,-

Voordelige prijzen

Breed assortiment