Dell SonicWall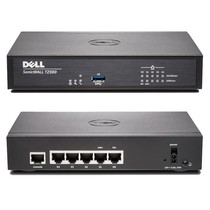 Dell SonicWall TZ300 High-performance UTM firewall voor het MKB.
Lees meer
DELL SonicWALL TZ300 Wireless inclusief TotalSecure (1 jaar), High-performance firewall voor het MKB segment met 802.11ac Wi-Fi
Lees meer
Dell SonicWall.
Met complete network security oplossingen onderscheidt SonicWALL zich op het gebied van secure remote access, web en e-mail security, backup and recovery en policy and management solutions. Het aanbieden van zowel appliances software-based producten en value-added subscription services geeft organisaties de kans om deep secure protection toe te passen zonder verlies van netwerkprestaties.
Met SonicWALL beveiligt u uw netwerk, groot en klein, via een centrale firewall. De beveiligingsoplossingen van SonicWALL bieden u mogelijkheden als Dynamic deep packet inspection firewall met anti-virus, anti-spyware, intrusion prevention, SSL VPN verbindingen, content filtering en volledige controle op uw netwerk.