De BenG NAC 3 autopilot computer is het brein achter uw B&G Triton autopilot systeem.
De BenG NAC 3 is speciaal ontwikkeld om een jacht onder controlle te houden onder vrijwel alle weersomstandigheden en de zee-gangen, naast de elektronica die nodig is om een hydraulische of mechanische aandrijving te bedienen. 


De NAC 3 is ontworpen voor boten van 10 meter (33 voet) of groter in lengte en is gespecificeerd voor high-current hydraulische aandrijvingen, mechanische aandrijvingen, en magneetventielen met een stroomsterkte van 30 Ampère continue (50 ampère piek).
Kenmerken van de BenG NAC 3:
B&G Reflex zeil algoritmen
12 / 24V ingang 30A continu vermogen (50A piek)
3A Koppeling uitgang
NMEA 0183 interface (1 ingang, 1 uitgang)
Solenoid uitgang geschikt
Roer feedback opties: NMEA2000 Roer Feedback (RF25), Freq. Roer Feedback (RF300)
Solenoid uitgang geschikt voor grotere schepen
Aansluiting voor NFU Remotes
Externe Mode-ingang, externe open / dicht of puls contact voor systeem te kiezen
Extern alarm uitgang voor buzzer / relais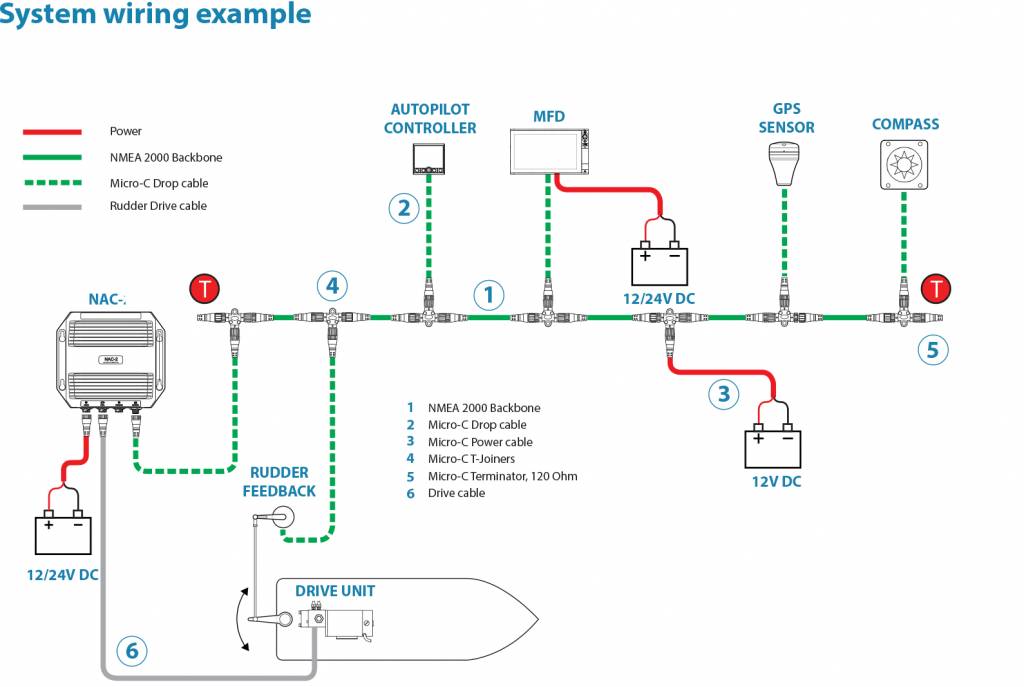 Specificaties BenG NAC 3 autopilot computer:
| | |
| --- | --- |
| Omgeving | |
| Temperature, operation | 0 to +55°C |
| Temperature, storage | -32 to +70°C |
| Protection | IPx7 |
| | |
| | |
| Mechanical | |
| Gewicht | 0.7kg  |
| Afmetingen | 211 x 196 x 65.5mm  |
| Mounting | Bulkhead |
| Behuizing | Plastic |
| Kleur | Black |
| Cable inlet | Grommet (Spare Incl) |
| | |
| | |
| Power | |
| Local supply | 12/24 V DC +10-30% |
| NMEA 2000 Load Equivalent number (50mA) | 1 |
| Interface | |
| Reversible motor control of rudder | Max continious load 30A, peak 50A for 1s |
| On/off solenoid control of rudder | 12/24V DC, common, load range 10mA to 10A, off current <1mA |
| Engage output for bypass/clutch | 12/24V DC, min 10mA, max 3A |
| Rudder angle, frequency input | 15V, 1.4 to 5kHz, resol. 20Hz/° OR NMEA2000 |
| NFU port/stbd input and mode indicator output | External open/close contact, common ret, contact current max 30mA |
| Mode input | External open/close or pulse contact for SYSTEM SELECT, common ret, close to activate, contact current max 30mA |
| External alarm output for buzzer/relay | Max 100mA, voltage level as local supply |
| | |
| | |
| Networking | |
| IEC 61162-1 input (NMEA0183 In) | 1 ch |
| IEC 61162-1 output (NMEA0183 Out) | 1 ch |
| IEC 61162-1 speed | 4.8 & 38.4 kbaud |
| NMEA2000 | Certified (pending) |