Akitio Thunder2 Storage A/V inclusief 2x 512GB
AKiTiO Thunder2 Storage-AV - Wereld snelste portable Thunderbolt 2 storage drive met een HDMI aansluiting voor 4K display in de markt. Dit professionele Thunderbolt storage apparaat wordt geleverd met een set geinstalleerde M.2 PCIe SSD modules die extreem hoger data transfer snelheden leveren en ook ruime opslagcapaciteit bieden. De portable AKiTiO Thunder2 Storage-AV heeft geen ventilator en is compleet geruisloos.
Kenmerken Akitio Thunder2 Storage
Twee Thunderbolt 2 poorten voor hoge snelheden tot 20Gb/s
Twee ingebouwde, supersnelle M.2 PCIe SSDs van 512GB ieder
Dedicated HDMI 1.4b aansluiting voor 4K displays
Fanless en noiseless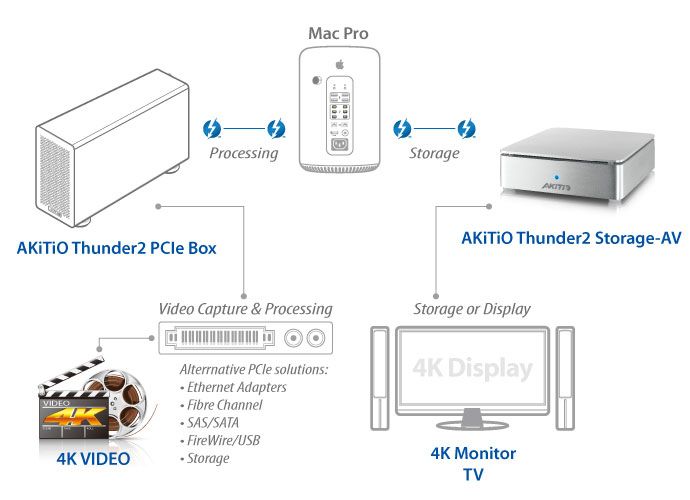 AKiTiO Thunder2 Storage-AV

T2SA-THIS-AKTUH (2 x 512GB SSDs)

2 x M.2 PCIe (x2) SSDs
Type 2280 (22 mm x 80 mm)

Pre-configured as RAID 0 on Mac OS X (Software RAID)

2x Thunderbolt 2 ports
1x HDMI port

Thunderbolt 2 interface up to 20 Gbps
HDMI 1.4b interface up to 3.0 Gbps

Windows 7, Windows 8, Windows 10
Computer with Thunderbolt connector

Mac OS 10.9 or above
Computer with Thunderbolt connector

Operating Temperature: 5°C ~ 35°C
Storage Temperature: -20°C ~ 60°C
Relative Humidity: 5% ~ 95% (non-condensing)

External power supply (UL, cUL, CE, TUV approved)
Input: AC 100-240V
Output: DC +12V/4A

N/A (silent)

4.8 inches x 4.8 inches x 1.3 inches
12.3 cm x 12.3 cm x 3.8 cm

AKiTiO Thunder2 Storage AV
2 x M.2 PCIe SSDs
Setup guide

Retail Box Size: 9.1 x 7.1 x 3.4 inches (23 x 18 x 8.7 cm)
Carton Size (10pcs per carton): 18.3 x 15.2 x 10 inches (46.5 x 38.5 x 25.5 cm)

This Thunderbolt product is not compatible with Apple's Boot Camp.
Thunderbolt cable not included with all models or in all regions.
To connect this device to a Thunderbolt 3 computer, a Thunderbolt 3 to Thunderbolt adapter like the AKiTiO T3T is required.